John Lu has an ever growing list of contacts in the ABHL world. What started as a few key sources from players, to captains, to coaches, to GMs, to owners, to other media members, to executives and player agents. John Lu works tirelessly in an attempt to find the most up-to-the-second information from within the hockey world. He believes in reporting any significant discussions that he hears in regards to player movement no matter how minor or how realistic it is in his own opinion. If the information is coming from a strong source with a solid history of good information John Lu will post it because he believes that half the fun of the ABHL is discussing whether or not all of the armchair GMs out there should make the move. Welcome to Season 2 everyone!
Week 1 has ended and despite losing both games, Cash Only is still $2.2 million over the cap limit. This translates to yet again another 5 goal handicap for week 2 if Cash Only remains status quo with their the lineup that they iced in week one. The most popular name that has been thrown around in the Cash Only rumour mills is Bryan Lee. Bryan has been named Cash Only's keeper from season 1. Keepers are meant to provide leadership, scoring, and all the intangibles to help the organization be a successful one. There have been many incidents early this season that Bryan has showed his dissatisfaction with Cash Only. Examples of this include not getting along with Captain Ryan Ho and not being happy with the direction of where Cash Only seems to be going. Is Bryan to blame? It can't be good for team morale to play with a 5 goal deficit game after game. Bryan Lee should fetch a good return if he were to be traded. He not only provides great leadership, but is also an offensive defensemen that likes to jump up into the play with a heavy shot. Watch closely in the coming weeks as it is inevitable that Cash Only will make a trade to get under the salary cap. If they don't, then it will be a long... long season for all Cash Only players.
Fan favorite and most improved player Richard "Dick" Tang is off to a slow start. ABHL Season 1 is Richard's first full season in a professional hockey league and Richard had exploded as a rookie for 14 goals and 4 assists in 14 games. Maybe it's too early in the season to tell, but after a pointless start to week 1 of season 2, Richard looks to be experiencing the sophomore slump. The new environment he's been playing in is definitely not helping as Flying Tigers are still figuring out the best way to utilize this power forward. If by week 2 his performance doesn't improve, Flying Tigers may look to shake things up by moving Richard to another team. GM Bernie Chu has much higher expectations this season as Flying Tigers hope to make their first playoff berth in the ABHL. Richard will draw much interest from many teams around the league if the Flying Tigers decide to put him on the trade block. It has been heard that Chain Gang's GM Felix Wong is very interested in Dick. "I wanted Dick sooooooooo bad!" moaned the general manager during the ABHL draft as the Flying Tigers snatched the Power Forward in the third round. In week 2 is where we'll see whether Dick plays hard and produces on the scoreboard or if he stays limp and useless as it'll affect where he'll play for the remainder of the season.
Roosters had high expectations for this stay at home defenseman. With 0 pts in 2 games played in week 1, Danh Le is a primed target to be traded on the Roosters. Last season Danh has averaged over a point a game scoring 15 pts in 14 games played. There should be no reason that this defensive minded player to not average that this season once again. If Danh doesn't turn things around in week 2, Roosters will be looking immediately to adding some scoring to their roster by using Danh as trade bait. Roosters are ranked last with an average of 2GF per game and any offensive help would help considerably.
1st round draft pick of the SHJB, Kevin Chew, was held pointless in his ABHL debut. Much more is expected from this 2 way forward offensively for this upcoming week. While SHJB only has a little over 500,000 in cap space remaining after the dominating performance in week 1, a trade should be underway after week 2. Kevin Chew is the highest paid player other than the captain and the keeper on this team and there is a good chance he may be moved soon to free up some cap space. Kevin has a huge offensive upside in which it has yet to be shown in the ABHL, but definitely a promising reliable player at the least. Kevin's known to be a dangler that is very strong positionally and is defensively reliable which is an asset that can help any team. It will be interesting to see if Kevin can bounce back in week 2 and whether he will fashion a new colored pinny in the near future.
This just in from a reliable source! It is rumored that Cash Only GM Ryan Ho and Roosters GM David Nguyen have been speaking to each other through phone, text messaging and in person about a possible trade between the two clubs. While it is unknown which players are involved in this trade, it is rumored to be a BLOCKBUSTER! Cash Only is looking to shed some salary to get under the salary cap while Roosters are trying to acquiring some offensive help. While these two teams appear to make perfect trade partners in the early weeks of ABHL, there have been no trade confirmations as of yet. My sources have said that they have been talking for over a week now and they are close to finalizing a deal. Now the timing may be a factor for this deal as Roosters may want the deal to be made after week 2 to maximize on the 20% player salary reduction. On the other hand, Cash only would want to finalize this trade immediately before week 2 to lower the goal handicap imposed on the team immediately to significantly increase their chances of winning in week 2. What I can guarantee you is that Rooster's Ricky Gregorio and Cash Only's Gary Wong will not be included in this blockbuster trade.
It has been rumoured that the Roosters are planning to sign a new free agent very soon. Many people expect this free agent to turn Rooster's season around. It has been heard that this free agent has been playing in division 2 of Edmonton's men's ball hockey league (BHE) and that he possesses the speed of a Cheeta, the strength of a Mammoth and the hands of a daily Neutrogena hand cream user. The future of the Roosters franchise for season 2 rests on this young man which may make his debut as early as week 3.
Another forward that has been experiencing the sophomore slump is speedy winger Joseph Florendo. Joseph is on pace for 16 points this season while in the previous season he scored a career high 26 points. He is well under his season 1 average of 1.0 goals per game. Joseph Florendo's name has been tossed around in trade talks as of late as many general managers have shown much interest in acquiring this forward. A change of scenery may help spark season 1's most underrated player's production. In season 1 Joseph Florendo was not a household name in which players may tend to play him softer on the defensive side and not expecting much from him offensively. That is when this shifty forward will hurt you the most. His strength is to sneak behind defenders and if left uncovered, he will score and punish the other team. There is no surprise that many general managers will inquire about this player as it is the perfect buy low opportunity for acquiring Mr. Joseph Florendo.
Rumors have been going around that Richard Lee may be the next player to be traded from the Chain Gang. Richard started the season with a bang scoring 2 goals and 1 assist in week 1. Since week 1 he has zero points and 4 missed games. Some may call it commitment issues, but most would call it the sophomore slump! It was heard that Richard did not notify his team or his general manager of his whereabouts during week 4. One of our TaSN photographers caught Richard Lee on a boat full of boos having the time of his life with ..... Beyonce??!!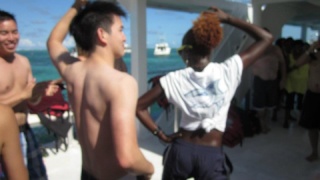 ---
Permissions in this forum:
You
cannot
reply to topics in this forum